US stocks mixed ahead of jobs report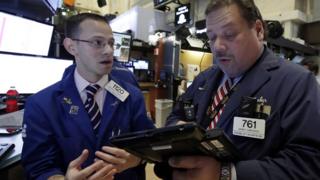 (Closed): Wall Street markets were mixed on Thursday as investors prepared for the US Labour Department's monthly jobs report on Friday.
The Dow Jones Industrial Average was up 9.45 points to 17660.71.
The S&P 500 fell 0.49 to 2050.63, while the Nasdaq lost 8.55 to 4717.09.
"I don't think anyone wants to take a position ahead of the jobs data tomorrow," said Peter Cardillo, chief market economist at First Standard Financial.
The price of West Texas Intermediate crude rose 1.2% to $44.30 a barrel, after producers around the Canadian city of Fort McMurray closed or cut output in response to a wildfire.
As a result Chevron climbed shares almost 1% and shares in Baker Hughes rose 1.24%
Shares in Nasdaq-listed Tesla Motors fell 5% after it reported a $282m (£195m) loss for the first quarter.
Tesla also said it planned to raise production to 500,000 a year vehicles by 2018, two years earlier than expected.
Shares in Kellogg dropped 2.6% after the maker of Corn Flakes reported continuing declines in sales by its breakfast division.
Kraft Heinz stock was up 3.7%. Since the two food businesses merged the company has implemented cost-cutting measures at a faster rate than investors expected.