Asia stocks trade higher despite disappointing China data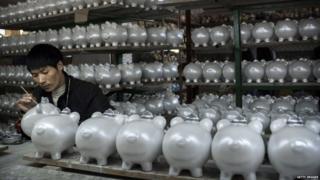 Asian stock markets rose on Monday, shrugging off disappointing economic data released by China over the weekend.
China's industrial output, retail sales and fixed asset investment all grew more slowly than expected in April, indicating the economy remains weak.
The Nikkei 225 index closed up 0.3% at 16,466.40, while the broader Topix gained 0.1% to end at 1,321.65.
Australia's benchmark ASX/200 rose 0.6% to close at 5,358.95.
South Korea's Kospi index ended flat at 1,967.91.
In China, the mainland's Shanghai Composite gained 0.8% to close at 2,850.86 while Hong Kong's Hang Seng wrapped the day at 19,883.95, also 0.8% up.
China's National Bureau of Statistics said on Saturday that industrial output rose 6% year-on-year in April, compared with 6.8% growth the month earlier.
Fixed-asset investment grew by 10.5% in the January-to-April period, compared with an increase of 10.7% the year before.
Retail sales grew by 10.1% in April from a year earlier. They all missed market expectations.
Vishnu Varathan from Mizuho bank said the activity data raised concerns about China's renewed slowdown and exacerbated "woes about global demand deficiency".