Asian markets fall after Fed minutes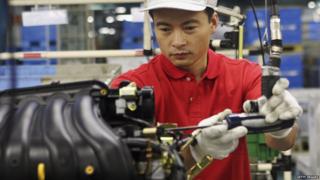 Asian stock markets fell after the latest minutes from the US Federal Reserve indicated it could raise interest rates as soon as June.
The central bank said it could raise rates next month if conditions were right.
South Korea's Kospi fell 0.5% to close at 1,946.78 while Australia's S&P/ASX 200 ended 0.6% lower at 5,323.30.
Hong Kong's Hang Seng index closed 0.7% lower at 19,694, while the Shanghai Composite closed flat at 2,806.91.
According to analysts, the market believes the probability of a US rate rise in June has now increased to 32%.
"The minutes cited the strength of the labour market, improving economic conditions, better inflation and declining global risks as reasons to begin to normalise sooner than the market expected," said Alex Furber from CMC Markets.
"The prospect of higher rates and the market's reliance on monetary policy to prop up asset prices worried investors, which pared early gains on the news."
Machinery orders
In Japan, shares rose in early trading after data showed machinery orders rose in March.
Core orders rose by 5.5% from the previous month, beating forecasts for growth of 0.5%.
However, the benchmark Nikkei 225 index ended up closing flat at 16,646.66 while the broader Topix fell 0.14% to 1,336.56.
Shares of Japan's Suzuki Motors also bounced back from Wednesday's sell-off. They rose by as much as 5% in Tokyo after the carmaker denied it had manipulated fuel efficiency data.
Suzuki's shares fell by as much as 15% on Wednesday on reports the firm may have carried out "improper" testing.