Japan stocks trade higher after strong US lead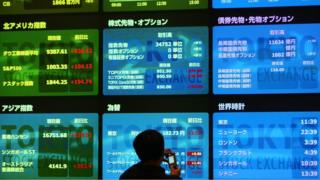 Japanese shares moved higher on Wednesday, following a strong performance from Wall Street overnight.
US markets finished sharply higher, with technology and banking stocks helping the S&P 500 to rise 1.4%.
Toyko's benchmark Nikkei 225 closed up 1.6% at 16,757.35 points.
Shares in the world's leading car maker Toyota rose by 2.3% on the news the company had struck ties with ridesharing pioneer Uber.
In China, the mainland Shanghai Composite closed flat at 2,815.09, while Hong Kong's Hang Seng ended the trading day 2.7% higher at 20,368.05.
Australian shares managed to bounce back from a two-year low with the ASX/200 rising by 1.5% to wrap the day at 5,372.50.
In South Korea, the benchmark Kospi index moved higher by 1.2% to finish at 1,960.51 points.
Shares in Samsung Electronics saw a 1.9% rise, despite a patent lawsuit filed against the firm by Chinese competitor Huawei.