Playboy mansion bought by Hugh Hefner's neighbour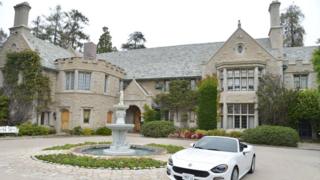 The Playboy mansion, home to Playboy founder Hugh Hefner, is being sold to a private equity boss who lives next door.
Daren Metropoulos, 32, is buying the near 22,000-sq-ft (2,040-sq-m) property, which was on the market for $200m (£138m).
He bought the neighbouring property from Mr Hefner in 2009 for $18m.
Mr Metropoulos is a principal at Metropoulos & Co, which is run by his father Dean.
"The heritage of this property transcends its celebrity and to have the opportunity to serve as its steward would be a true privilege," Daren Metropoulos told The Wall Street Journal.
The mansion was built in 1927 and purchased by Playboy in 1971 for a reported $1.1m, making it the most valuable real estate deal in Los Angeles at the time.
It features a tennis court, free-form swimming pool, wine cellar, home theatre and games house but needs renovating to meet the same standards as other Beverly Hills homes.
Neither party has confirmed what the mansion was sold for.
Mr Hefner, 90, has the right to remain living in the property until his death. The LA estate eventually replaced the original Playboy Mansion, which opened in 1959 in Chicago.
Playboy Enterprises put the mansion up for sale as part of a change in corporate strategy forced by the rise of free online porn.
Both its magazine and website have banished pictures of fully nude women, which has boosted online traffic. However, it now makes most of its revenue from licensing the Playboy logo on merchandise.
Metropoulos & Co is best known for rescuing Hostess, the snack food company that makes Twinkies and other calorific treats.
The firm, along with fellow private equity house Apollo, bought the "snack cake" division of Hostess in 2013, after the company filed for bankruptcy, for $410m.
Daren's brother Evan Metropoulos said at the time: "It's an iconic brand and it's something that millions of Americans love and enjoy. It's very much worth saving."