Poundland profits suffer amid 'strain' of buying rival 99p Stores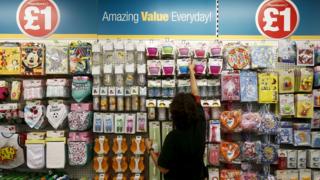 Poundland, being stalked by potential bidder Steinhoff, saw profits fall amid weak trading and the "strain" of integrating former rival 99p Stores.
Poundland said in its statement that the 99p-chain purchase "naturally placed a strain on the core business".
Annual pre-tax profits at the 900-strong chain tumbled 83.7% to £5.9m, although sales rose 18.7% to £1.3bn.
Stripping out the 99p Stores acquisition, profits fell 13.5% to £37.8m on sales up 9.3% to £1.2bn.
However, Jim McCarthy, the departing chief executive, said on Thursday that adding its smaller rival's stores to Poundland had strengthened the group.
'Unprecedented'
This week, South African retailer Steinhoff said it could make a takeover bid for Poundland.
Poundland had seen its shares fall sharply as it struggled to integrate 99p Stores, which it took over in September 2015.
"After a period of significant change, including an unprecedented integration programme at pace, Poundland now has a unified estate of over 900 stores," said.
"The retail environment remains challenging, but with our significantly enlarged store portfolio, greater scale and ability to focus fully on trading our stores, I believe we are well placed to make progress in the year ahead."
Strain
Poundland shares have jumped this week after Christo Wiese, Steinhoff's chairman, said he was interested in the UK because it would be a "good fit".
Poundland told investors to take no action as there was no certainty an offer would be made.
Steinhoff owns Pep, a retailer with 1,800 stores across 10 countries in southern Africa that sells discount clothing, footwear and homewares.
Earlier this year, Steinhoff pulled out of a takeover battle for Argos-owner Home Retail Group. leaving the way clear for supermarket chain Sainsbury's.
The South African company also failed to take over French electricals chain Darty.
Since 1990, Poundland has opened about 600 shops in the UK, Ireland and Spain, and has plans to open 16 new shops a year for the next two years in the UK and Ireland.
The retailer was founded with the plan to sell everything at the single price point of £1 in its UK stores, although it says it sometimes offers special promotions and products at other prices.
It also has operations in Ireland and Spain under the name of Dealz.