US markets shrug off Brexit worries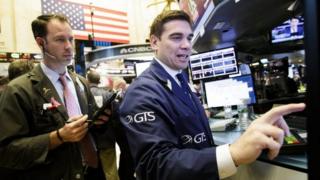 (Close): Wall Street closed higher on Thursday after being under duress this week through uncertainty about the UK referendum.
The Dow Jones Industrial Average climbed 92.93 points to 17733.10. The wider S&P 500 index was 6.49 points higher at 2077.99.
The tech-heavy Nasdaq rose 10.51 to 4844.91.
Biotech companies were the big movers on the Nasdaq. Exact Sciences Corp climbed over 20% and Advanced Micro Devices rose 7.4%.
Shares of pharmaceuticals firm Merck were 2.5% higher.
Exxon Mobile was up 1.2% and Chevron moved up 0.44%.
US crude prices fell 3.9% to $46.12 per barrel and Brent crude was 3.7% lower at $47.17 a barrel.