US stocks rise after Janet Yellen testimony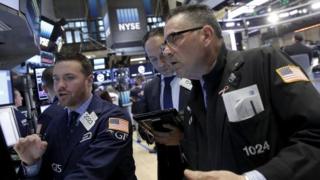 (Close): Wall Street markets closed higher on Tuesday after the head of the Federal Reserve said the US economy faced uncertainty, but that a recession was unlikely.
The Dow Jones Industrial Average climbed 24.86 points to 17,829.73.
The wider S&P 500 was 5.65 points higher at 2,088.90, while the Nasdaq rose 6.55 to 4,843.76.
Anxiety over Thursday's UK referendum on whether to leave the EU was also weighing on investors' minds.
Federal Reserve chairwoman Janet Yellen told the Senate Banking Committee that Thursday's EU vote "could have significant economic repercussions".
Energy and technology stocks were among Wall Street's best performers.
Shares of Halliburton rose 1.9%, while petroleum company Apache climbed 2.4%.
On the tech side, Microsoft shares rose 2.2%. Social media giant Facebook climbed 0.9%.
US airline United Continental pledged to save $3bn by 2018 by implementing cost cutting measures, sending its shares 3.4% ahead.
Aircraft maker Boeing saw a 0.9% rise after announcing a tentative $25bn deal with Iran Air.
If the deal is approved by the US government it will be the largest between a US company and Iran since 1979.