Tech stocks lead Wall Street lower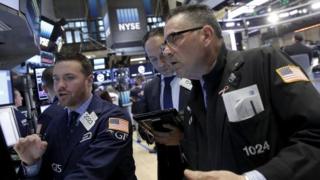 (Closed): Shares on Wall Street ended lower on Wednesday with investors showing caution before Thursday's vote in the UK on whether to remain in the European Union.
The Dow Jones Industrial Average closed 0.3%, at 17,780.83.
The wider S&P 500 fell 3.45 points, or 0.2%, to 2085.45, while the Nasdaq slid 10.44, or 0.2%, to 4833.32.
Technology shares were among the big losers following disappointing results from Adobe and HP.
Adobe shares fell 6%, while HP shares were down 5%.
Smartphone maker Blackberry's share price fell 4.4%. It reports quarterly earnings tomorrow.
Shares of global delivery firm Fedex fell 4.5%. It reported a quarterly loss on Tuesday and warned future growth would be limited.
The price of crude oil fell 1.5% on Wednesday. US crude was $49.11 per barrel and Brent crude was $49.87 a barrel.
Chevron shares fell 0.9% and Exxon Mobil was down 0.4%.
Shares of solar energy firm SolarCity rose 3.4% after it received an offer from electric car maker Tesla to buy the struggling company for $2.8bn.
Tesla's shares fell 10% after one investor called the deal "shameful".