How worried is China by the prospect of Brexit?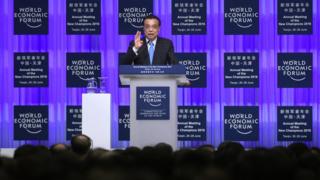 Business people here in China had broadly convinced themselves that they were ready for the result of the EU referendum, whichever way it went. But now that there has been a vote for Brexit, the reality is beginning to sink in.
In Tianjin, at the annual gathering of influential figures from across Asia, there's a sense that many people are more worried than they expected to be.
This World Economic Forum meeting in northern China was supposed to focus on high-tech solutions to the planet's problems.
There are sessions considering the impact of the 3D printing of drugs from the internet, on reverse engineering the human brain and on the logistical challenges of sending astronauts to Mars. But all these topics are being swamped by one issue: Brexit, at least in terms of what everybody is talking about.
Follow the latest developments on our live page
China is less exposed to the impact of the referendum result than many other countries and yet the mood, when discussing Britain's forthcoming departure from the European Union, is pretty gloomy.
Some Chinese may benefit in the short term. With the value of the pound dropping, tourists might find it cheaper to travel to Britain for a while, but the problem is that the general uncertainty about the post-Brexit global economy is also driving down the yuan.
What you can hear said, quite prominently, during the coffee chat here, is that the world is lurching from an internationalist outlook towards more of a closed, fearful perspective.
It seemed like we were all taking down barriers and the bleak scenario appears to be that the walls are going up again, they say.
Mind you, not everyone at the meeting is so pessimistic.
Jing Ulrich, Asia-Pacific vice chairman for JP Morgan, thinks this is only a temporary setback.
She believes that in the long run the trajectory towards open international relations remains unstoppable.
"In the near term, an event like this sometimes surprises the market. Some people think this is a setback for globalisation," she says. "Actually it's just a sentiment."
She points especially to new forms of communication as a means of ensuring that isolation does not win the day.
Calvin Chin, chief executive of tech start-up company Transit Shanghai, sees potentially darker prospects when it comes to the consequences for Chinese companies that are in the process of expanding internationally.
"I think part of that impact - at least in the short term - might be concentrated in Chinese companies that have been going global," he told the BBC.
"So a lot of Chinese companies are looking at investments overseas, have been setting up offices overseas, and have been doing trade and investment in economies - mature and emerging."
"A Chinese company thinking about an EU platform for that new market opportunity might not think about setting up in London or in the UK and rather might maybe focus on France and Germany," he said.
However, others see their ties with Britain undiminished.
Wang Chuanfu is the chairman of Chinese automaker Byd, which has entered a joint venture to produce electric buses with Scottish manufacturer Alexander Dennis. He told the BBC that Brexit might throw up considerable obstacles for some, but his company intended to increase investment in the UK.
"Our government has said that bilateral relations with Britain will not change after Brexit and the same can be said for Byd," Mr Wang said.
The Chinese government may have issued "everything is going to be OK"-type official statements but they also seem concerned.
China's number two, Premier Li Keqiang, is seen as the economic brains in the Politburo Standing Committee.
When he spoke at the Tianjin Forum he said that the prospect of Brexit was "adding to uncertainty in the world economy".
He called for unity and stability within the UK and also within Europe.
Many of those here no doubt would echo that wish; it remains to be seen whether they'll see it fulfilled.