Ryanair: 'To focus growth on European Union'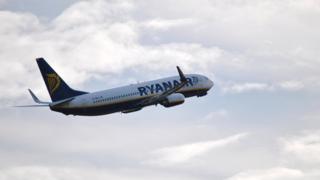 Ryanair will not deploy new aircraft on routes to and from the UK next year, following the Brexit vote, and will instead focus on the European Union.
The Irish low-cost airline, will "pivot all of our growth into the European Union," chief executive Michael O'Leary told the Wall Street Journal.
Ryanair carries more than 100 million passengers a year and UK routes account for 40 million of those travellers.
Ryanair has its largest hub at London's Stansted Airport.
The airline's shares have fallen more than 23% since the United Kingdom voted on Thursday to leave the European Union.
Mr O'Leary, one of the most vocal business leaders campaigning in favour of continued EU membership, had repeatedly warned he would cut investment in Britain if it voted to leave.
He said the airline's overall growth targets remained unchanged.
Mr O'Leary said he expected three or four months of "considerable uncertainty" due to the British vote, but forecast a limited impact on near-term bookings to and from Britain.