FTSE 100 slides as property shares suffer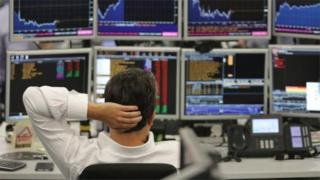 The FTSE 100 share index closed lower as weakness in the property sector outweighed a strong performance from mining shares.
The FTSE 100 closed down 55.57 points, or 0.84%, at 6,522.26.
Shares in property firms and housebuilders were hit after a survey indicated the construction industry suffered its worst performance for seven years last month.
The sector had already suffered losses in the wake of the Brexit vote.
Shares in British Land Company fell 7.1%, while housebuilders Persimmon and Berkeley Group were both down by more than 6%.
The shares of mining companies were trading higher following increases in prices of metals such as gold, silver and copper.
Shares in gold and silver miner Fresnillo jumped 7.6%, while Randgold Resources and Glencore were more than 4% higher.
The FTSE 250 index - which contains more UK-focused companies than the FTSE 100 - dropped 348.79 points, or 2.1%, to 16,116.7.
While the FTSE 100 index is above the level it stood at ahead of the referendum result, the FTSE 250 is nearly 7% lower.
Last week, FTSE 100 index recorded its biggest weekly rise in four and a half years, with shares boosted by the prospect of fresh stimulus measures from the Bank of England.
On Thursday, Mr Carney said a deteriorating outlook meant action from the Bank was likely this summer.
On the currency markets, the pound rose 0.17% against the dollar to $1.3298, and was up 0.23% against the euro at €1.1945.
"The weekend saw the pound fall to a new low of 1.1860 against the euro in a very sudden spike downwards on Sunday evening," said Caxton FX analyst Alexandra Russell-Oliver.
"The pairing has since recovered, but the pound is expected to remain under significant pressure in the coming weeks as the Bank of England is anticipating an economic downturn once the effects of the UK referendum start to affect the economy at large.
"Traders will be holding their breath in anticipation of Mark Carney's financial stability report in London tomorrow, which will give some fresh insight into the current UK economic outlook and the stability of the UK's financial system following the referendum vote."