US trade deficit expands more than expected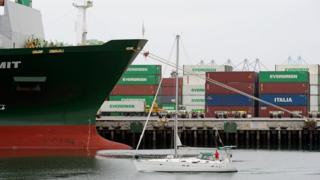 The US trade deficit grew by 10% in May as exports fell while imports, particularly from China, rose.
The Commerce Department said the trade deficit rose to $41.1bn (£31.7bn) in May compared with $37.4bn in April.
Exports decreased by 0.2%, while imports grew by 1.6%.
The US consistently runs a trade imbalance, importing more goods than it sells overseas, but as the dollar has strengthened, this has become more pronounced.
"Appreciation of the US dollar is weighing on the trade balance, making imports relatively inexpensive, while lowering the competitiveness of exports," said Emily Mandel of Moody's Analytics.
The deficit is particularly pronounced with China, where the gap rose by 19.4% to $29bn - the largest difference since November 2015.
The trade gap with the European Union also widened by 13.5%.
Industrial supplies and consumer goods were the leading imports for the US, while exports increased in the food and beverage sector.
Trade has been a hot-button topic in the US presidential election. Both of the presumptive candidates have raised questions about US trade deals and their impact on workers.
Despite what appears to be a big jump in the deficit, though, the figure is only slightly higher than the 2016 first-quarter average of $40.6bn.