Pound jumps as Bank keeps rates on hold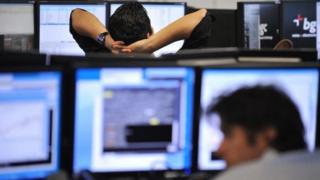 The pound jumped and shares fell after the Bank of England stunned the markets by keeping interest rates on hold.
Markets had been betting that the Bank would cut rates from 0.5% to 0.25% at the very least.
However, the Bank's Monetary Policy Committee voted by 8-1 to hold rates, although minutes of the meeting showed they "expect monetary policy to be loosened in August".
The pound was up 1.5%, nearly two cents, against the dollar at $1.3341.
Against the euro, sterling was 1.25% higher at €1.2002.
The FTSE 100 share index had been trading higher ahead of the Bank's decision, but news of the rate freeze wiped out the gains, with the index closing 15.93 points lower at 6,654.47.
"The Bank of England surprised markets again by leaving rates on hold at 0.5% and leaving QE unaltered. But it should not have come as a total shock, as there was always a strong chance the Bank would stand pat," said Neil Wilson at ETX Capital.
"But alongside the inaction, we got an extremely dovish signal from the Bank's Monetary Policy Committee that helped calm markets, which had been expecting a lot more.
"It's clear that the MPC thinks there just hasn't been enough economic data since the Brexit to warrant further easing just yet. The Bank has kept its powder dry and has more ammunition to ease at a later date if required."
Among individual shares, recruitment firm Hays was 5.5% higher after it said full-year operating profits were set to reach £180m, which was better than expected.
Halfords shares slid 1.3% after it said sales of bikes had fallen in the first quarter, which the company blamed on poor weather and the timing of Easter.
Shares in Mothercare rose 0.2%, despite the baby products retailer saying that its UK sales had also been affected by the wet weather.
Underlying sales in the UK rose by 1.2% in the three months to 9 July, but this was slower growth than seen in previous quarters.
Shares in Supergroup, the company behind the Superdry brand, jumped 16.7% after it reported a 16% rise in underlying pre-tax profit to £73.5m and said it would pay a special dividend.