Goldman and Bain take control of Korean beauty brand Carver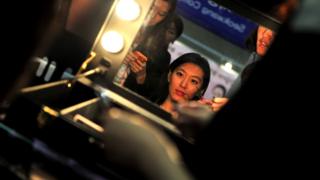 Goldman Sachs and private equity firm Bain Capital will acquire a controlling stake in cosmetics maker Carver Korea.
The value of the deal was not disclosed, but the two US firms are understood to be paying more than 350 billion won ($307m, £232m).
Carver Korea founder and chairman Lee Sang-rok will retain a minority stake and remain involved in the business.
South Korean beauty products have soared in popularity across Asia, including China, as well as the US.
Brands such as Amorepacific and the Carver-owned skincare line A.H.C. have enjoyed rising demand due to the so-called Korean Wave.
The term is used to refer to consumers who have become obsessed with Korean television dramas, "K-pop" music, food and fashion.
Carver sales rose by more than 200% between January and May compared with the same period last year.
The company's sales exceeded the 150 billion won figure, a joint statement from Carver, Goldman and Bain said.