US regulators investigate Fiat Chrysler sales reports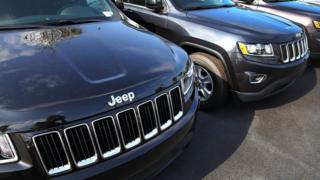 Fiat Chrysler is being investigated by US regulators over its reporting of quarterly and annual results.
The Italian-American carmaker confirmed reports that both the Securities and Exchange Commission (SEC) and Department of Justice (DoJ) were undertaking investigations.
Fiat Chrysler said it was cooperating fully with both agencies.
The company said it "records revenues based on shipments to dealers", rather than direct sales to car buyers.
Fiat Chrysler has reported record sales since 2014 when Fiat took full control of Chrysler.
It reported a 7% rise in its monthly sales in June - its best result for that month since 2005.
The company said it sold 2.2 million vehicles last year.
However, its method of reporting revenue based on orders by dealers rather than purchases by customers has raised the interest of US regulators.
Dealer lawsuit
In January, a US Fiat Chrysler dealer sued the company, accusing it of racketeering and fraud.
The dealer, Napleton Automotive Group, said the firm encouraged dealers to lie about monthly car sales and offered the boss of Napleton $20,000 (£15,000) in exchange for falsely reporting the sales of 40 new vehicles.
Napleton also said Fiat Chrysler would regularly report sales at the end of the month but then cancel them the next day.
The carmaker said the lawsuit was without merit and pledged to defend itself. The case is ongoing.
Neither the SEC or the DoJ commented on their investigations.