Ford and other firms to miss Paris Motor Show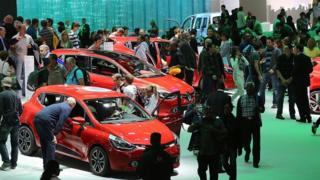 If one of the world's biggest car manufacturers decides not to attend one of the world's most prestigious motor shows, should the organisers be getting worried?
The Mondial de l'Automobile, also known as the Paris Motor Show, gets under way tomorrow. For 16 days, it will play host to the great and good of the global motor industry.
First held in 1898, it now takes place once every two years, alternating with the equally high-profile Frankfurt Motor Show.
Traditionally, it provides an opportunity for manufacturers to wheel out their gleaming new models, indulge their engineers' flights of fancy by producing outlandish and futuristic concept cars, and generally bask in the media spotlight.
Paris no-shows
But this year, the Detroit giant Ford will not be going. Nor will Mazda or Volvo. A whole host of luxury brands, including Rolls Royce, Bentley, Lamborghini and Aston Martin will also be giving it a miss.
So what's going on? Cost is likely to be a major factor.
The big motor shows are certainly spectacular - BMW even had an elevated test track running through its stand at the Frankfurt Motor Show last year, for example - but they certainly don't come cheap.
Accurate figures are hard to come by, but the big brands can spend millions in an effort to upstage their rivals.
On top of that, although journalists flock to the show, there's a great deal of competition for headlines. So rather than simply hold press conferences, carmakers host elaborate "media evenings" at exotic venues around the city.
Ford clearly thinks it can spend its money better. Instead of attending the show, it will be hosting its own media event at its European headquarters in Cologne in late November.
It says it will be able to use the occasion to "show new vehicles and talk about our move from being an auto company to being an auto and mobility company".
Volvo has also moved away from car shows, preferring to focus on marketing its cars through online channels, as well as hosting its own events.
And let's not forget that as the distinction between car and technology companies becomes increasingly blurred, more and more vehicles are being launched at tech fairs, like the Consumer Electronics Show in Las Vegas.
Electric developments
Nevertheless, the Paris Motor Show should still provide plenty of hype this year - and much of it will surround the continuing development of electric cars.
Volkswagen, for example, says it will be presenting an electric car that has "the potential to make history with its completely new vehicle concept".
Details are pretty sketchy, but it is expected to look rather like a futuristic VW Golf.
More importantly, VW's brand CEO Herbert Diess recently told the German magazine WitschftsWoche it would have a range of 400-600km (250-370 miles) and would be capable of taking a full charge in 15 minutes.
VW, of course, is desperate to embellish its environmental credentials. The German firm wants to show it has moved forward, a year after the diesel emissions scandal first came to light. It now says it wants 20-25% of the cars it sells to be electric within a decade.
Mercedes is also expected to unveil an electric concept. It says the car will "embody a concrete vision of a totally new generation of vehicles with battery-electric drive".
While it isn't entirely clear what that means, the company is thought to be developing a new range of dedicated electric cars, distinct from existing models. Its concept, like VW's, is likely to combine long range with strong performance.
And there may be others.
Renault-Nissan, for example, is already a leader in the electric vehicle market, with the Nissan Leaf and the Renault Zoe. Reports in the French press suggest it has come up with a new design which will increase the Zoe's range from 160 to 320km.
GM's Opel brand, meanwhile, will unveil the Ampera-E, a European version of the new Chevrolet Bolt.
Emissions rules
So why are we seeing this surge in interest in electric vehicles, at a time when their share of the global car market is still tiny? According to Ian Fletcher, automotive analyst at IHS Markit, change in Europe is being driven primarily by legislation.
From 2021, car manufacturers will be expected to cut the average carbon dioxide emissions across their fleets from the current level of 130 grams per kilometre to 95g/km. Having zero emissions cars in their fleet will help them meet that target.
"Electric cars are going to be a growing factor purely because the big manufacturers are getting hit by emissions regulations", says Mr Fletcher.
"There will be a step change in 2019-20, before new emissions rules come in. The new limits are a big step up. Pure electric cars will be part of that, but plug-in hybrids and traditional hybrids will also play a role".
It is also clear that perceptions of electric cars are changing, helped by the publicity surrounding Tesla's ground-breaking Model S, its striking gull-winged Model X and its yet to be launched "affordable" Model 3.
The signs are the traditional carmakers are not prepared to let the Californian upstart have everything its own way in what could one day be a very profitable market.
Driving on
That isn't all we'll see in Paris of course. There will be plenty of other high profile debuts - the new Land Rover Discovery, for example, and the next generation of Honda Civic and Nissan Micra.
There may be a few names missing, but there will still be plenty of shiny machinery to fill the cavernous halls.
Expect plenty of noise, not to mention flashing lights and quite possibly dancers as well. The French manufacturers in particular will be keen to put on quite a show.
But at this year's event, it is the electric concepts which will be providing most of the spark.