Illicit cannabis farming thrives in Lebanon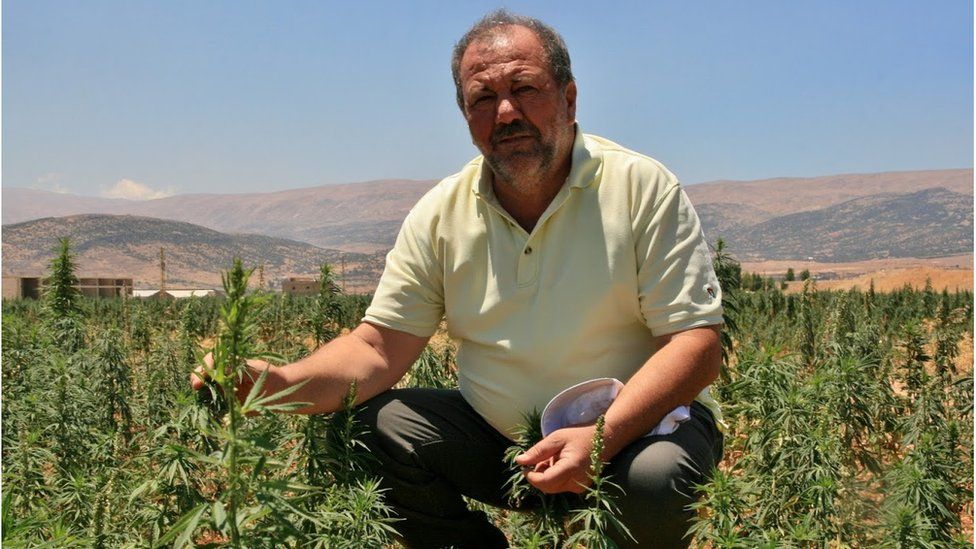 "It was the need to survive that forced me into it," says cannabis farmer Ali Nasri Shamas.
"When I was young I wasn't for it or against it. All I used to think about was going to school, graduating and getting a job. But there is poverty in this part of the country, the state is non-existent."
The "it" Shamas refers to is the business of selling cannabis, something he first became involved with six years ago.
He is now one of Lebanon's biggest growers and most prolific traders, with 130 hectares of hash fields in the country's Bekaa Valley and more than 50 employees.
As he shows off his production factory and his plants - which grow openly in fields by the side of public roads - he happily poses for photos, showing little regard for the illegality of his work.
"The government did try to crack down on it," he says with a grin, before adding: "Before they come to destroy our crop, they have to have an idea for an idea or programme to implement instead of hashish.
"You cannot just destroy the crop that we survive off. We are willing to fight for it."
Happily for Shamas, he hasn't had to do much fighting in recent years.
In the 1990s, there were huge efforts by international organisations to stamp out the country's cannabis industry, which had exploded during the chaos of the 15-year Lebanese civil war.
Without an equally profitable alternative crop, however, it kept coming back, and now the Lebanese army is too busy preventing spillover from the Syrian conflict to conduct its aggressive yearly razing programme.
This should mean booming business, but in reality the effect has been mixed. Less policing has prompted lots more people to get in on the act, flooding the market and pushing down the retail price.
And the usual supply lines to the Gulf through Syria are now cut off due to the war, forcing dealers to look further abroad for replacement customers.
Yet Lebanon remains one of the top five cannabis producers in the world, and with the industry valued at about $4bn (£3.3bn) it remains a highly lucrative enterprise, a fact that has not escaped the notice of economists and politicians.
Lebanese Druze leader Walid Jumblatt took to Twitter in 2014 to call for it to be legalised, making him the most senior Lebanese figure to date to support the idea.
Many have pointed to the boost it would provide to the country's flagging economy, which is struggling due to the Syrian civil war and the presence of more than a million refugees, nearly half of whom live in the impoverished but highly fertile Bekaa Valley.
"It is quite obvious that Lebanon cannot support the 1.5 million refugees in a decent manner without an economic activity that brings about income to the farmers and the workers in the areas where the refugees are concentrated," explains economist Marwan Iskander.
With the country's GDP currently estimated at $47bn and annual growth at 1.5%, according to the World Bank, a $4bn boost to the official figures would be hugely welcome.
"There could be both work opportunities and a substantial increase in the national income if we legalise cannabis," he says.
For some, however, the solution lies not in changing laws, but in finding that elusive alternative crop.
Back in the Bekaa Valley, Faouzi Issa sighs as he looks between two green fields separated by a dirt track.
"On your right is cannabis, and on your left is a vineyard, a plot of Syrah grapes actually," he shakes his head. "One is illegal... and the other is supported by the brave people in this region, where they are still fighting to survive, still fighting to find an alternative crop that can really [help them] build a long-term future."
Issa is managing director of Lebanese winery Domaine des Tourelles, but he also works as a consultant for a much smaller co-operative winery called Couvent Rouge.
It comprises 250 farmers, nearly all of whom originally grew cannabis but have switched to grapes.
"If you compare two plots of non-irrigated land, one cannabis, one wine grapes, the grapes will give you double the revenue," explains general manager Walid Habchi.
"The only issue is that grapevines need a big initial investment, and then you have to wait three years to see any results. But still, people are happier doing this. It's a respected crop, it gives you a future."
Issa is quietly optimistic that given the right support, grapevines could be the answer to the cannabis conundrum.
"We have the story, we have the know-how, we have the people, we have the passion, we have the land, we have the sun - we have everything to produce great wines," he says.
"So maybe this small project will end up being a successful project for the region."