US shares lower on weak China data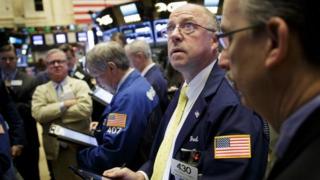 (Close): Stocks on Wall Street closed lower, with sentiment hit by worse-than-expected trade figures from China.
Exports from China fell by 10% in September from a year earlier while imports shrank 1.9%, reviving questions over the strength of the country's economy.
The Dow Jones fell 45.26 points, or 0.25%, to 18,098.94.
The wider S&P 500 index fell 6.63 points to 2,132.55, while the Nasdaq dropped 25.69 points to 5,213.33.
Shares in Wells Fargo fell 1.26% a day after the bank announced that its chief executive, John Stumpf, was resigning in the wake of a scandal over its sales practices.
The bank is investigating how two million accounts were opened without customers' permission.