DiCaprio to co-operate in probe into Malaysia's 1MDB scandal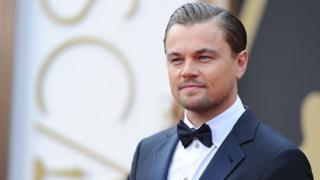 Leonardo DiCaprio has offered to help US authorities in their corruption probe into Malaysia's state fund 1MDB.
Both the Hollywood actor's charity foundation and his movie The Wolf of Wall Street have allegedly received money siphoned off the Malaysian fund.
The US hopes to seize more than $1bn (£761m) in assets related to the fund.
The Justice Department filed a civil suit to seize luxury real estate, artwork and other assets purchased with allegedly stolen funds from 1MDB.
A spokesman for Mr DiCaprio said his charitable foundation would return gifts or donations if they were found to have come from the fund.
The spokesman said that on finding out about corruption probe through news reports in July, DiCaprio "immediately had his representatives reach out to the Department of Justice to determine whether he or his foundation, the Leonardo DiCaprio Foundation, ever received any gifts or charitable donations directly or indirectly related to these parties, and if so, to return those gifts or donations as soon as possible."
The statement said that Mr DiCaprio and foundation would be "entirely supportive of all efforts to assure that justice is done in this matter".
Funds 'misappropriated'
Malaysia's 1MDB fund started to attract attention in early 2015 when it missed payments for the $11bn it owed to banks and bondholders.
This was followed by allegations of an international scheme of embezzlement and money-laundering involving billions of dollars of 1MDB money, rocking the Southeast Asian country's political establishment.
Read more: 1MDB - The case that riveted Malaysia
In a July lawsuit, the US Justice Department alleged the "misappropriated" funds financed lavish lifestyles of "multiple individuals including public officials".
The $1bn to be seized only makes up a proportion of the money that was allegedly diverted, which comes to more than $3.5bn.
"The Malaysian people were defrauded on an enormous scale," deputy FBI director Andrew McCabe said in July.
The court papers detailed how "Malaysian Official 1" - soon afterwards identified by officials as Malaysian Prime Minister Najib Razak - had family members and close associates divert billions of dollars from the fund.
Mr Najib launched 1MDB in 2009 to turn Kuala Lumpur into a financial hub and closely oversaw it. While the fund has admitted that "mismanagement" took place and has since replaced its board, Mr Najib denies any personal involvement in the case.
The court papers though name Mr Najib's stepson, Riza Aziz, whose company Red Granite Pictures produced the Leonardo DiCaprio film The Wolf of Wall Street.
Red Granite Pictures has said that to its knowledge it did not receive any illegitimate money and it has done nothing wrong.