GlaxoSmithKline sees profit surge on weak pound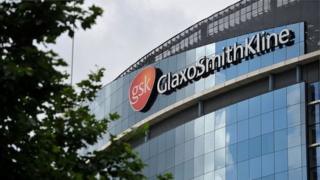 Pharmaceutical giant GlaxoSmithKline saw profits surge in the third quarter, aided by the recent fall in sterling and strong sales of its flu vaccines.
In the three months to 30 September, sales jumped 23% to £7.5bn while core operating profit rose 35% to £2.3bn.
But at constant exchange rates, the performance was more modest, with sales up 8% and core operating profit up 13%.
The value of sterling is down by about a fifth against the dollar since the UK voted to leave the EU.
The weaker pound benefits companies such as GSK, as revenues earned abroad are worth more when converted back into sterling.
Chief executive Sir Andrew Witty said the results reflected "strong performances across the group".
Pharmaceutical sales were up 6% in the period to £4.1bn, boosted by a 70% rise in sales of HIV medicines.
Vaccine sales leapt 20% to £1.6bn, thanks partly to strong sales of flu vaccines in the US.
And consumer healthcare sales grew 5% to £1.9bn, with particular contributions from "power brands" such as Sensodyne.
'Dark side'
Nicholas Hyett of Hargreaves Lansdown said GSK had put in an "expectation busting performance".
"That performance has been further boosted by the fall in sterling, which, because of GSK's international earnings is expected to boost earnings per share by 21% at the full year."
But he said there was a "dark side" to the currency benefits, as GSK borrowed in dollars as well as sterling.
"That, combined with a dividend that is still uncovered by free cash, means that net debt has increased 37% from the start of the year to £14.7bn," he said.