Nintendo shares rise on Super Mario iPhone game date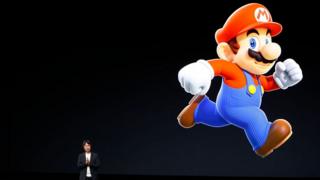 Shares in Nintendo have climbed after it announced a launch date for its new Super Mario game for the iPhone.
Super Mario Run will be released in Apple's App Store on 15 December, with users having to pay $10 (£8) for the full game.
Nintendo, which announced the tie-up last month, saw its shares jump by as much as 5%.
It hopes to build on the global success of its Pokemon Go app from earlier this year.
But because Pokemon was free to download, analysts said it did not generate as much money for the firm as it could have done.
Nintendo plans to move Super Mario into movies
When Japan's PM appeared as Mario
Smartphones are the gaming industry's fastest growing source of revenue and the Japanese firm has been criticised for being slow on the uptake.
It has promised to to unveil more gaming titles by March 2017, with an Android version of Super Mario Run also planned.
---
The evolution of Super Mario
Super Mario Bros was created as a sequel to Donkey Kong. It is the most successful video game series of all time.
Mario is an Italian-American plumber and has a younger brother called Luigi.
In the game he has to navigate a series of levels, avoid enemies and collect coins along the way.
---