Oil shares rise after Opec agreement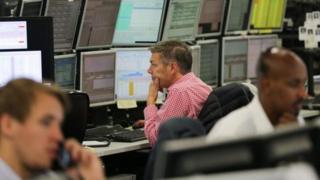 Oil shares led the FTSE 100 higher after an agreement by the oil cartel Opec to cut output.
It's the first time in eight years the oil exporting Opec members have agreed such a move.
Crude oil jumped 7% on the news and shares in BP and Shell rose around 4%. Overall, the FTSE 100 closed up 0.17%, or 12 points, at 6,783.8.
Bank shares were also in the spotlight after the Bank of England's latest stress test on seven UK-based banks.
Royal Bank of Scotland (RBS) had fared worst in the test, which measured the banks' capacity to withstand a number of doomsday economic scenarios.
By the close, RBS was down 1.4% at 194.3p. But Standard Chartered and Barclays both rose slightly despite balance sheet weaknesses.
HSBC and Lloyds were both ahead, as they were given a clean bill of health by the Bank.
On the currency markets, the pound was down 0.13% against the dollar to $1.2477, and was 0.59% higher against the euro at €1.18.