Vauxhall takeover: Peugeot boss says no plans to shut plants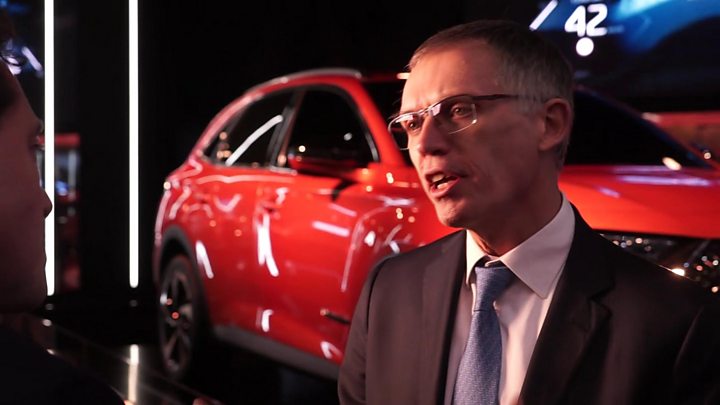 Peugeot chief executive Carlos Tavares has said he is not considering shutting Opel and Vauxhall plants after his company's takeover of the brands.
Instead he wants to "unleash [their] potential" by exporting the cars outside Europe, he said in an interview with the BBC.
The brands' previous owner, General Motors, did not market Opel or Vauxhall cars outside Europe.
Mr Tavares said merging with Peugeot would make Vauxhall more efficient.
PSA, Peugeot's parent company, has agreed to buy the European operations of General Motors, prompting concern over the future of its UK-based Vauxhall operations in Ellesmere Port and Luton.
Simon Jack: Vauxhall's uncertain road ahead begins
Why is Vauxhall being sold to Peugeot's owner?
The fine print behind the GM deal
Geneva motor show: Live updates
But Mr Tavares said both PSA and Vauxhall were operating at high levels of capacity, and that demand overseas would justify maintaining production.
"We are not talking about shutting down plants. Why? Because if you look at the situation, look at the PSA Group today, our capacity utilisation rate is 98%."
He said Vauxhall was operating at 82% capacity.
"For many, many, years Opel Vauxhall could not export cars outside of Europe, that was something that General Motors didn't want them to do. PSA is going to unleash this potential, we are going to open the gates" he said.
Supply chain
Mr Tavares painted a positive picture of the future for the merged company, suggesting sharing assets and expertise and introducing new internal benchmarking at Opel-Vauxhall would improve performance.
He said that Opel-Vauxhall could have broken even last year if it had not been for the fall in the value of sterling following the EU referendum vote.
A weaker pound has a mixed impact on Vauxhall's profitability. The plants at Ellesmere Port and Luton rely on components supplied from the continent, so those parts have become more expensive when priced in sterling. However, the fall in the pound also means labour costs when measured in euros have fallen, improving profitability for vehicles sold in euros.
Following Brexit it may make better sense to source parts from within the UK, said Mr Tavares.
"If we were to have a hard Brexit... with custom duties and all that stuff, it would be of course an opportunity for us to have UK sourcing."
"For that we would need the support of the UK government to develop the supplier base in the UK."
Performance not protection
He also indicated that his priority was not negotiating with governments for favourable tax treatment.
"What is striking in Europe... is that everybody is asking for protection," he said.
"The only honest answer for protection is performance, if you increase your level of performance, you become the best, if you become the best there is no risk.
"We can become better by sharing the best practices, having the best benchmarks inside the company and if we are better, with the export opportunities we have, we can fully use our manufacturing footprint."