Samsung scandal: Who is Lee Jae-yong?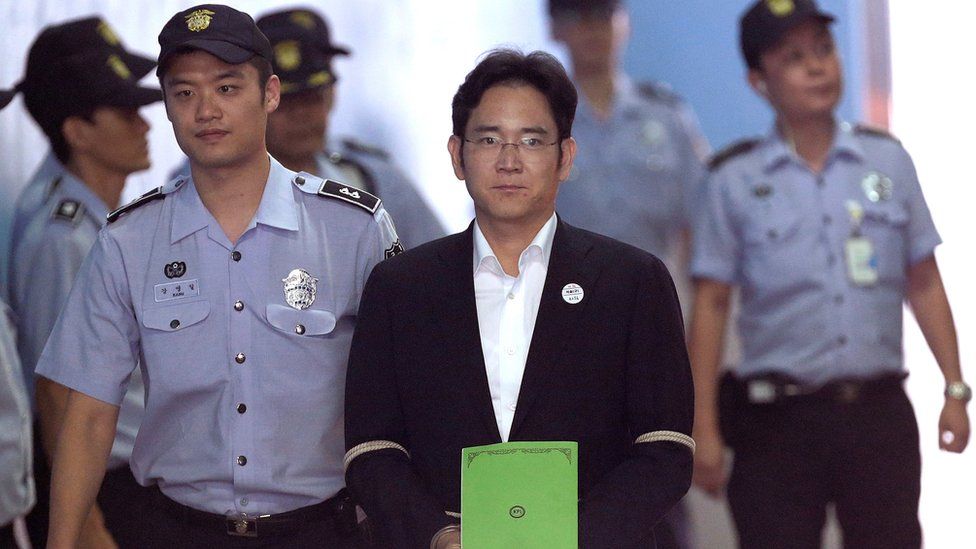 A year ago, simply finding a photograph of Lee Jae-yong was tricky.
He had just been elected to the board at Samsung Electronics, and one of the few images available showed him as a younger man, smiling, with a name badge clipped to a lilac V-neck sweater.
There is no shortage of pictures now, but smiles and upbeat knitwear were in limited supply.
Instead most images showed him handcuffed, flanked by police as he is moved between court and prison.
But now, a flicker of a smile has returned - after a court unexpectedly released him after deciding to cut his five-year jail term and to suspend the remaining sentence.
The 49-year-old, also known as Jay Y Lee, is the son of Lee Kun-hee, chairman of Samsung Group, Korea's largest conglomerate. He is also the grandson of Samsung founder Lee Byung-chul.
With a degree from South Korea's top university and a doctorate from Harvard Business School, he has been groomed to take over the family firm.
He became a Samsung president in 2009 and in 2013 was made vice-chairman of Samsung Electronics, the division which makes gadgets from smartphones and televisions to cameras and hard drives.
But since Lee's father suffered a heart attack in 2014, he has been considered de facto boss of the entire Samsung group.
Forbes ranks the divorced father-of-two as the 40th most powerful person in the world, with a net worth of almost $6bn (£4.9bn).
In February 2017, Lee Jae-yong was arrested and then charged over his alleged role in a political and corporate scandal linked to South Korea's then president, Park Geun-hye.
Charges against Lee included bribery, embezzlement, hiding assets overseas and perjury.
Samsung was accused of paying 43bn won ($37.7m; £26.7m) to two non-profit foundations operated by Choi Soon-sil, a friend of Ms Park, in exchange for political support.
Lee denied the charges. He admitted making donations but denied Samsung wanted anything in return. In August 2017 a court convicted him of the charges and sent him to prison for five years.
In February 2018, that sentence was halved, and Seoul High Court decided to suspend the jail term, meaning he was free to go.
What does this mean for Samsung?
Mr Lee's release will be a major relief to the world's biggest smartphone marker and arguably the most important company in corporate Korea.
You could see the immediate impact of that from the pop in Samsung's share price - a sign that investors were looking forward to Mr Lee back in the driving seat.
It may, or may not be, back to work as usual. Mr Lee wants to clear his name. Prosecutors want him back behind bars.
Samsung has sales equivalent to about a fifth of the country's GDP. To date it has appeared unaffected by Lee's absence, with Samsung Electronics posting record profits last year.
But there are also political consequences to this latest move.
South Korea's President Moon Jai-in came to office after campaigning to clean up the powerful chaebol sector in Korea - ending the special treatment for the business elite who run the chaebol, family-run companies crucial to the national economy.
Mr Lee has effectively been given a get out of jail card.