Miners lead FTSE 100 index lower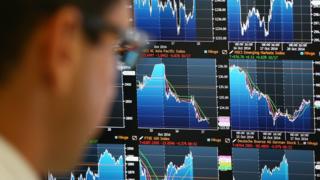 The London market closed lower on Thursday after a further fall in the price of oil hit mining stocks.
The FTSE 100 ended the day 0.27%, or 19.65 points, lower at 7314.96.
The price of oil has been falling on fears that increased US production will offset Opec efforts to curb supply, thereby suppressing prices.
On Thursday, Brent Crude lost 2.7% to $51.69 a barrel, its lowest level in three months, while US West Texas Intermediate fell below $49 a barrel.
This hit commodities companies which were among the FTSE 100's worst performers.
Anglo American and Glencore were down 4.6% and 3.7% respectively. BHP Billiton dropped 5.8% although that was in part because its shares went ex-dividend.
Retail woes
Retail stocks also sagged after disappointing full-year results from John Lewis.
The firm, which is not listed, revealed that its selling prices were lagging input costs as consequence of the weak pound.
Morrisons was the biggest faller on the FTSE 100 - down 6.56% - even though it posted a rise in underlying full-year profits for the first time in five years.
And Tesco fell 1.54% after it announced it was reimbursing 140,000 current and former staff who were left underpaid due to a payroll error.
Shares in Aviva had a better day, rising nearly 6.5% after the insurer reported a 12% rise in operating profits in 2016.
However, the company said post-tax profits dropped 22% to £859m after it took a £380m charge to cover recent changes to the way that compensation is calculated for car accident victims.
Pizza flop
In the FTSE 250, Domino's Pizza sank more than 14% after the takeaway chain reported a slowdown in sales at the start of the year.
Like-for-like sales in the UK rose by 1.5% in the first nine weeks of 2017, compared with 10.5% growth a year earlier.
The news overshadowed Domino's Pizza's full-year results, which showed that underlying pre-tax profits had risen by 17% last year to £85.7m.
On the currency markets, the pound lifted 0.2% against the dollar to $1.2190, but dropped 0.33% against the euro to 1.15070 euros.