US investors wary ahead of Fed decision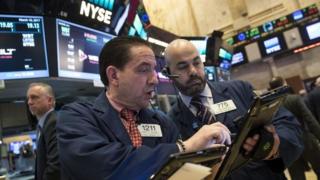 The main US indexes were little changed on Monday as investors prepared for an expected rate rise later this week.
The Dow Jones Industrial Average edged 0.1% lower, the wider S&P 500 index barely moved and the tech-focused Nasdaq Composite rose 0.2%.
Shares in airlines tumbled after thousands of flights were cancelled in advance of a blizzard, expected to hit the northeastern US on Tuesday.
American Airlines and United Continental shares lost 3.5%.
Shares in Intel fell 2% after the maker of computer chips announced a $15bn deal to buy Mobileye, a company that specialises in driverless car technology.
Rate watch
Many investors are looking ahead to the result of an interest rate policy meeting at the US Federal Reserve which ends on Wednesday.
Most analysts forecast that the US Federal Reserve will raise interest rates.
"The market is expecting a rate increase," said David Levy, portfolio manager at Republic Wealth Advisors.
"But more importantly, the market is trying to understand from the Fed what the rest of the year in future rate hikes may potentially look like," he said.