US shares higher after rate decision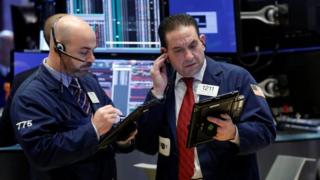 US shares closed higher after the Federal Reserve raised its benchmark interest rate.
The Dow Jones rose 0.54% the broader S&P 500 was 0.84% higher and the Nasdaq Composite was up 0.74%.
The central bank voted to raise its key rate target to a range of 0.75% to 1%.
The Fed had been expected to raise rates after strong February jobs figures and rising inflation, and wage gains.
Anna Stupnytska, global economist at Fidelity International, said:
"To see real rates in the US move significantly higher, we will probably need to see either actual implementation of fiscal stimulus from the Trump administration and/or consistent upside in core inflation. The former appears somewhat bogged down for now, but it is too early to rule anything out."
Oil prices rebounded from Tuesday's losses. Benchmark Brent crude rose 2.1% to $52 per barrel, and US crude rose 2.7% to $49 per barrel.