US shares slip after Fed move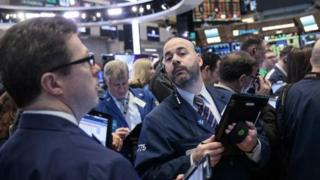 Stocks on Wall Street slid at the close as investors cashed in healthcare shares.
Proposals in President Donald Trump's budget signalled higher regulatory costs for the sector and a cut in federal funding for medical research.
Though still a way from becoming reality, they gave traders a reason to cash in gains.
The Dow Jones Industrial Average was down 15.55 points at 20,934.55.
The broader S&P 500 index fell 3.88 points to 2,381.38 while the Nasdaq Composite climbed 0.71 points to 5,900.76.
Chemicals firm Dupont was the biggest faller on the Dow, down 1.08%, while drugs firms Merck and Pfizer were down more than 0.5%.