London's leading shares lose ground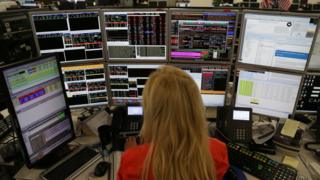 London's leading shares ended the day lower, extending Tuesday's losses, after Wall Street suffered its worst day this year.
The FTSE 100 shed 53.6 points, or 0.7%, to 7,324.7, with retailer Kingfisher worst hit.
Share prices have lost ground on both sides of the Atlantic amid concerns that US President Donald Trump faces opposition to promised reforms.
Until Tuesday, the FTSE had risen for four consecutive sessions.
On three of those occasions, the FTSE 100 had notched up record closes.
Kingfisher ended 5.1% lower despite announcing an 8.3% rise in annual profit.
Investors focused instead on the home improvement retailer's fears that political uncertainty in the UK and France could affect its sales this year.
Precious metals miners Antofagasta, Anglo American and Fresnillo were the biggest risers, up 1.4% to 1.7%.
They benefitted as investors turned to safe haven assets and dividend-yielding stocks.
"This is a classic risk-off move - people fly to safety, to the names that they know, as they reprice their fiscal policy outlook," said JP Morgan Asset Management's Alex Dryden.
The pound was slightly higher against the dollar at $1.2480, and little moved against the euro at 1.1544 euros.
The previous day, sterling had made gains after UK inflation in February rose to 2.3%, driven by rising fuel and food prices.
The stronger pound weighs on companies that make profits abroad.