US markets recover from early losses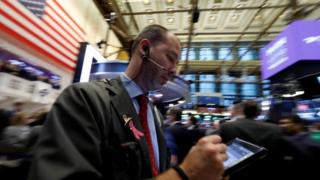 US shares recovered from early losses, one day after Wall Street suffered its worst day this year.
By the close, the Dow Jones index was down just six points at 20661.3 points, while the S&P 500 rose four points to 2348.45.
The tech-heavy Nasdaq index also ended higher, closing up 27 points to 5,821.64
Nike, which reported lower-than-expected quarterly revenue on Tuesday, was the Dow's biggest faller.
The footwear firm shed 7% after warning its profit margins could be hit by a tough trading environment.
Analysts attribute the recent share selling to reduced confidence that Mr Trump's pro-growth policies, including financial deregulation and tax cuts, will occur any time soon.
Investors see the Trump administration's struggles to push through his healthcare legislation overhaul as a sign he may face setbacks delivering the proposed corporate tax cuts.