Wall Street down after health bill pulled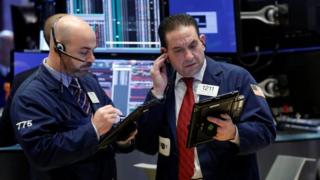 Wall Street finished lower on Monday following the withdrawal of President Donald Trump's healthcare reform bill.
Investors are concerned Mr Trump may struggle to push through other elements of his agenda including tax cuts and higher infrastructure spending.
The Dow Jones closed 46 points, or 0.2%, lower at 20,550.98, while the S&P 500 fell 2 points to 2,341.59 - its eighth straight day of losses.
The tech-heavy Nasdaq ended 12 points higher at 5,840.37.
All three indexes had opened with steeper losses, but gained ground in afternoon trading after the White House indicated it would switch focus to dealing with tax reforms in the coming weeks.
"We're going to work with Congress on this," White House spokesman Sean Spicer said. Tax cut legislation was a "huge priority" for the Republican president and "something that he feels very passionately about", he added.
'Riding a tiger'
After his failure with the healthcare bill, the President's "credibility has taken a hit and you can see that in the markets", said Philip Lawlor, chief investment strategist at Smith & Williamson.
Mr Trump has identified with the markets' enthusiastic reaction - the so-called "Trump trade" - to his economic plans, but this has also empowered the markets to give him a jolt, Mr Lawlor said.
"He is riding a tiger. His first 100 days is up on 2 May. If we've still not heard anything about the tax plan, the markets would take it upon themselves to show their displeasure."
The prospect of an economic boost stemming from President Trump's proposed economic policies has driven US shares higher since his election victory in November.
"The new President appears to be getting a harsh lesson in the realities of politics on Capitol Hill, a lesson that the previous President Barack Obama knows only too well," said Michael Hewson, chief market analyst at CMC Markets UK.
Nevertheless, he pointed out, US markets are still 8% up on November.
'Trump trade setback'
Kathleen Brooks, research director at City Index Direct, said she thought solid economic growth in the US would help stocks to recover.
"He may have more success in Capitol Hill with tax policy, which matters for the corporate bottom line. So, the Trump trade may be suffering a set-back, and we could see a resumption of the stock market rally in the short-term."
Shares in both Dow Chemicals and DuPont finished higher after the European Commission gave the go-ahead to their merger plans.
The deal values the merged company at $130bn (£103bn) and is expected to lead to cost savings of $3bn.
The Commission's approval is dependent on DuPont and Dow selling off some parts of their businesses to satisfy competition concerns.