FTSE 100 falls as pound jumps against dollar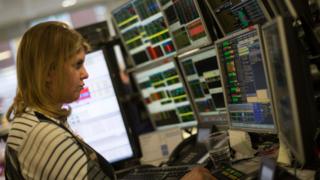 Worries over whether Donald Trump will be able to push through planned tax and spending changes in the US had a ripple effect across global markets.
Shares fell and the pound hit a seven-week high against the dollar as the US currency weakened following the defeat of Mr Trump's healthcare reforms.
The failure has raised questions over whether Mr Trump will be able to deliver other campaign promises.
Sterling jumped 1% against the dollar to above $1.26 before easing back.
The benchmark FTSE 100 share index fell, tracking losses seen elsewhere in European markets, and closed 43.32 points, or 0.6%, lower at 7,293.50.
Kathleen Brooks, research director at City Index Direct, said the markets were having a "Trump Tantrum", as investors doubted whether the president's style would work in Washington.
"Not only does the failed healthcare bill highlight the challenges Trump may face trying to get his other policies passed," she said.
"But the Congressional Budget Office also highlighted that the savings expected from Trump's healthcare bill would be much less than expected, which could limit the size and scope of his infrastructure spending plan."
'Triple whammy'
Jasper Lawler, a senior analyst at London Capital Group, said: "The unwind of the Trump trade spread to Asia and Europe." Bank stocks were among those hit as traders pared back hopes of deregulation in the US.
"A triple whammy of strength in the pound and falling bank and mining stocks sent the FTSE 100 to its lowest in a month," Mr Lawler said.
Among individual shares, BT Group initially fell 1.2% before paring its losses to finish only 0.2% lower.
The telecoms company was fined £42m by the regulator, Ofcom, over delays in installing high-speed lines. BT will also have to pay £300m to corporate customers.
Babcock International was one of the biggest fallers on the FTSE 100, down 4.2%, after the company said it had agreed to terminate a contract to clean up 12 Magnox nuclear sites.
In the FTSE 250, transport group FirstGroup rose 3.3% after its joint venture with China's MTR was awarded the South Western rail franchise.