US stock markets close virtually unchanged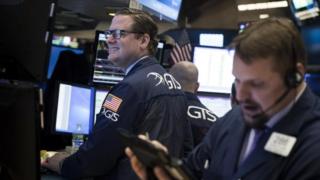 Wall Street markets ended the day little changed, with investors cautious about President Donald Trump's pending meeting with China's Xi Jinping.
The Dow Jones rose 0.19% to 20,689, and the S&P 500 gained 0.06% to 2,360.1. The Nasdaq fell 0.07% to 5,898.6.
Ralph Lauren shares fell 4.5%, with the retailer's struggles seen as a worrying sign for a sector losing ground to online rivals.
Retailers Nordstrom closed down 5.5% and L Brands fell 4.4%.
Airlines were weak, with American Airlines dropping 3.7% after rival Delta Airlines cut the forecast for a key revenue metric for the second time in less than a month. Delta shares fell 2.6%.
Stocks saw some support earlier in the session when Trump said US infrastructure spending could top $1 trillion and said his administration was working on a major "haircut" for Dodd-Frank banking regulations.
The S&P industrial sector ended up 0.2%, while the materials sector closed up 0.4%.
Financial investors appeared sceptical, however, as the S&P bank subsector ended down 0.3%.