McCarthy & Stone blames Brexit for tumbling profits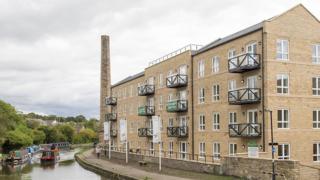 Retirement home builder McCarthy & Stone is forecasting a stronger second half after blaming the EU referendum for a 25% slump in interim profits.
The construction firm said pre-tax profits fell to £21.8m in the six months to February, down from £29m.
It said forward orders for homes were constrained because of market uncertainty following the Brexit vote.
However, the company expects more high-margin homes to be completed during the remainder of its financial year.
During the first six months of the year, revenue fell by 5% to £238.2m and legal completions shrank by 6%.
McCarthy & Stone chairman John White said: "The group continues to address the increasing market demand for retirement housing generated by a rapidly ageing population and has made good progress in recovering its workflow momentum following the outcome of the EU referendum last June."
The company said its forward order book is "strong" and it expects to meet its sales targets for both 2017 and 2018.
But shares in the FTSE 250 company fell 6.15% to 173.62p in early trading.
Meanwhile, Telford Homes, which builds houses in non-prime areas of London, said it expects record profit and revenue for the full-year.
It said it was on track to exceed pre-tax profit of £40m for the year to March 2018 and £50m in the following financial year.
The non-prime London market is robust, Telford said, and it expects a mix of sales between build-to-rent, individual investors and owner-occupiers.
Shares in Telford Homes rose 2.8% to 370p.