Wall Street falls after Federal Reserve releases minutes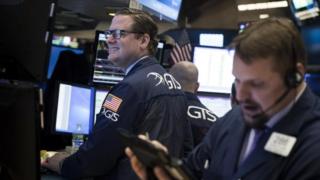 (Close): All three key Wall Street indexes closed lower on Wednesday, following the release of the minutes of the Federal Reserve's latest meeting.
The Dow Jones lost 42 points or 0.2% at 20,648.15, while the S&P 500 was at 2,352.95, a fall of 7 points or 0.3%.
The tech-heavy Nasdaq dropped 34 points or 0.6% to 5,864.48.
However, on the Nasdaq, Panera Bread jumped by more than 14% after it announced its takeover by investment firm JAB Holdings.
Earlier on Wednesday US shares had been trading higher, spurred on by a strong private sector jobs report.
However, the minutes of the Fed's March meeting reversed those gains.
At the meeting, all but one of the ten members of the Federal Open Market Committee voted to raise the key Federal Funds interest rate because of the strength of the US economy.
The minutes signalled that most of the policymakers also wanted to start reining in their policy of reinvesting in Treasury bills and mortgage-backed securities later this year, earlier than expected.
The Fed bought Treasury and mortgage-backed bonds during and after the financial crisis to help to keep interest rates low in an effort to encourage firms to take on staff and to boost economic growth.
"Provided that the economy continued to perform about as expected, most participants anticipated that gradual increases in the federal funds rate would continue and judged that a change to the Committee's reinvestment policy would likely be appropriate later this year," the Fed said in the minutes.
The minutes also said "some participants viewed equity prices as quite high relative to standard valuation measures".
"Either it scared participants because of talk that sounds like maybe (the stock market) is bubbling, or there is some thought that the normalisation of the balance sheet is going to harm growth... or we are going to get more (rate)