US stocks tread water after weak jobs data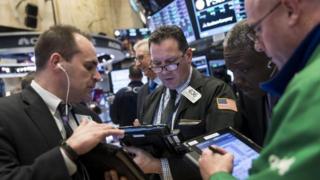 Stocks on Wall Street ended flat after the US economy added fewer jobs than expected in March.
Figures from the Labor Department showed companies added 98,000 jobs last month - far fewer than the 180,000 forecast by economists.
However, the unemployment rate fell to a 10-year low of 4.5%, down from 4.7% in February.
The Dow Jones fell about 7 points to 20,655, while the S&P 500 slipped 1.9 points to 2,355.5.
The tech-heavy Nasdaq shed 1.1 points to 5,877.8.
As well as digesting the latest jobs figures, investors were expected to be cautious following news of the US missile attack on a Syrian government airbase.
Worries over disruption to oil supplies in the Middle East sent the price of crude surging initially.
The price of Brent oil rose 2% above $56 a barrel at one point, before gradually losing most of the gains to stand up 0.5% for the day at $55.17 a barrel. US crude was 1% higher at $52.20 a barrel.