Weetabix to be sold to US company Post Holdings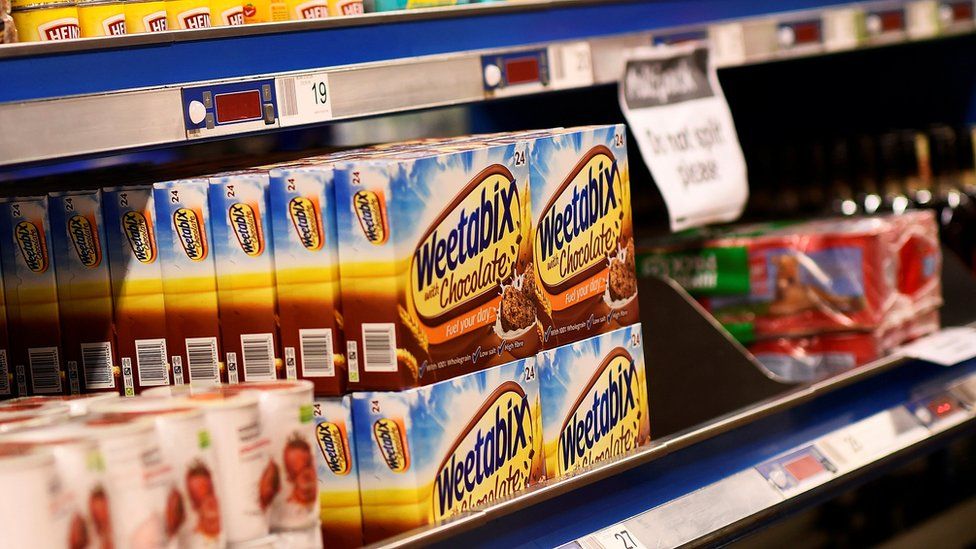 UK cereal firm Weetabix is to be bought by US firm Post Holdings for $1.8bn (£1.4bn), its owner has confirmed.
Weetabix - made in the UK since 1932 - was put up for sale in January by China's Bright Food, which bought a 60% stake in 2012.
Bright's acquisition was the largest by a Chinese firm at the time, but it is believed to have struggled to build significant market share in China.
Chinese consumers prefer a hot, rice-based breakfast to cold cereal.
While Weetabix doubled sales in China in 2016, the UK still accounts for the majority of its sales.
A spokesman for Bright Food, Pan Jianjun, said the sale of Weetabix did not mean the firm was abandoning its global ambitions.
"Going forward, Bright will stick to our overseas push," he said.
Northamptonshire-based Weetabix, which has a royal warrant, was family-owned until 2004, when it was bought by private equity firm Lion Capital. Its main factory in Kettering produces three billion Weetabix biscuits every year.
It is the largest producer of breakfast cereals in the UK and employs about 2,000 people.
Its products are exported to 80 countries, while it also has factories in Europe, east Africa and North America.
Under the new ownership, Sally Abbott, currently director of marketing at Weetabix, will become managing director of Weetabix UK and Ireland.
The current chief executive, Giles Turrell, will move to become the firm's chairman.
In a statement, Mr Turrell said: "Post is a leader within its markets and shares our commitment to providing great tasting nutritious products for the whole family. I'm confident they will help us open doors for continued expansion."
Post Holdings is the third-largest cereal firm in the US and owns brands including Great Grains, Golden Crisp and Cocoa Pebbles.
Some of the world's biggest names in food, including the UK's Associated British Foods and Italy's Barilla, had been named as possible suitors for Weetabix.
"Weetabix has struggled to crack the Chinese market, so it is no surprise to see Bright Food selling up," said George Salmon, equity analyst at Hargreaves Lansdown.
"It's also unsurprising to see one of the UK's biggest cereal brands remain in foreign ownership, due to the pound's weakness.
"UK-listed Associated British Foods was rumoured to have been interested in a deal, but any domestic buyers would have had to overcome the headwind of the pound's reduced buying power.
"In contrast, the dollar's recent strength has helped the successful bidder, US consumer group Post Holdings."