German police raid Daimler offices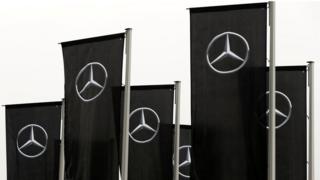 German police have searched 11 offices of carmaker Daimler as part of their investigation into possible fraudulent emissions data by employees.
A total of 23 prosecutors and 230 police officers took part in the search in the states of Baden-Wuerttemberg, Berlin, Lower Saxony and Saxony,
Daimler, which owns Mercedes-Benz, said it was co-operating with authorities.
It added "known and unknown employees" were being sought over suspicion of fraud and misleading advertising.
---
Analysis: Theo Leggett, BBC Business Correspondent
This is worrying news for Daimler.
Earlier this year, it admitted that some of its employees were the target of a criminal investigation, suspected of fraud and false advertising linked to the manipulation of diesel exhaust emissions. Today's searches show that prosecutors are taking that inquiry very seriously indeed.
The company is also concerned about the US authorities. Earlier this year, they accused rival manufacturer FiatChrysler of fitting unauthorised emissions control software to its vehicles; they are reportedly planning to launch legal action against FCA within the next few days.
That could be bad news for Daimler, which is also coming under scrutiny in the US. In fact, it says the possibility that the authorities might decide its own vehicles are fitted with "impermissible" software cannot be ruled out.
Just to be clear: since the Volkswagen scandal broke 18 months ago, no other manufacturer has yet been found to have deliberately designed "defeat devices" with the sole purpose of deceiving emissions testers.
But Daimler, Renault, PSA Group and FiatChrysler are all under investigation in at least one country. Fumes are hanging in the air - the question is, just how toxic are they?
---
The case relates to the possible manipulation of diesel exhaust emissions in passenger cars.
It is possible that further civil and criminal investigations and enforcement actions will come into effect.
Earlier this year, fellow German carmaker Volkswagen pleaded guilty to three charges as part of an agreement with US regulators over its own diesel emissions case.
It has already had to set aside more than 22bn euros (£19bn, $24.7bn) for fines and compensation.