Wall Street closes up after Fed minutes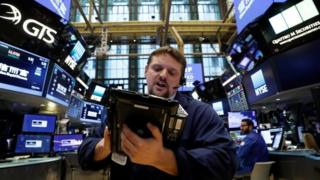 US markets closed up on Wednesday, after the minutes of the latest Federal Reserve meeting appeared to confirm plans by the Federal Reserve to raise rates next month.
However, share gains and losses were widely spread among a range of sectors making it hard to identify a pattern.
The S&P 500 climbed 0.25% to 2,404.39, while the Dow Jones gained 0.36%, reaching 21,012.42.
The tech-heavy Nasdaq closed at 6,1463.02, up 0.4%.
Shares in US steelmakers jumped in morning trade, as the US Commerce Department started a hearing over possible restrictions on imports of the material. But most of those gains had evaporated by the end of the day.
Goldman Sachs closed the day up by nearly 2%, climbing rapidly in the afternoon.
Banks typically benefit from higher interest rates, however, the sentiment did not spread to all of its rivals.
JPMorgan Chase & Co and Bank of America both closed down slightly.
Intuit, which provides tax preparation services, rose more than 6%, on strong earnings. The firm reported revenue in the three months to the end of April was up 10%.