Cautious investors push Wall Street share lower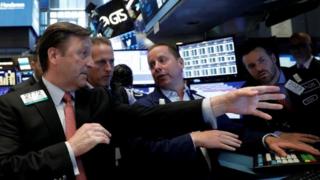 Shares on Wall Street closed lower on Tuesday, as retail stocks weighed on markets and political events expected this week kept traders cautious.
On Thursday, former FBI director James Comey will testify before Congress, and on the same day the UK's general election takes place.
The Dow Jones fell 47.81 points, or 0.23%, to 21,136.2, and the wider S&P 500 dropped 6.77 points to 2,429.3.
The tech-heavy Nasdaq slipped 20.62 points or 0.33% to 6,275.06.
Retail stocks performed especially poorly.
Department store Macy's fell more than 8% after executives held an investor meeting and warned the firm's margins would be lower.
Kohl's slid more than 5%, JC Penney shares fell more than 4%, and US retail giant Walmart dropped 1.2%.
Even Amazon, the online shopping giant frequently blamed for problems at traditional retailers, closed lower.
The firm, which has seen its stock soar in recent months, fell 0.8% after it announced it would offer heavily discounted Prime subscription service for those receiving US government aid as it aims to expand the number of people using the service.