US markets edge higher, lifted by tech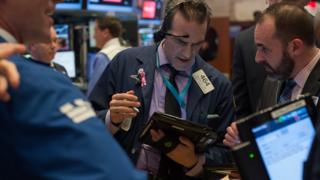 US stocks held steady on Friday, as gains in energy and tech stocks outweighed declines in firms focused on consumer goods.
The Dow Jones was little changed, falling 0.01% to 21,394.76 while the wider S&P 500 index rose 0.2% to 2,438.3.
The tech-heavy Nasdaq index rose 0.5% to 6,265.25.
Bed Bath & Beyond was among the biggest losers, falling more than 12% after reporting weak quarterly sales.
The home goods chain said on Thursday that quarterly sales increased 0.1% from the same period in 2016, and sales through comparable channels fell 2%.
Home Depot also slid 2.7%, despite a government report showing an increase in sales of new homes.
The losses were offset by improvement in tech stocks, which had suffered declines in recent weeks.
Microsoft shares climbed 1.4%, while Apple gained 0.5%.