Banks lead Dow Jones higher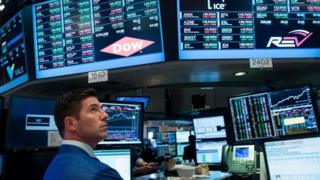 Wall Street shares closed higher on Wednesday, with financial stocks leading the way.
JP Morgan Chase and American Express were among the biggest risers on the Dow Jones index, up 2.01% and 1% respectively.
Overall, the Dow was up 141.49 points or 0.66% at 21,452.15.
The broader-based S&P 500 was 21.31 points or 0.88% higher at 2,440.69, while the tech-focused Nasdaq was up 87.79 points or 1.43% at 6,234.41.