Banks bolster Wall Street after Fed boost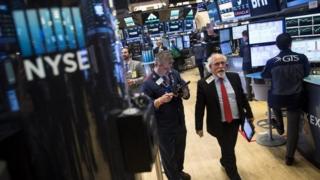 Shares in the major banks rose in early trade after they passed the second part of the Federal Reserve's stress test.
The Fed signed off on the banks' plans to distribute money to shareholders and use it for purposes other than being a buffer against another meltdown.
Shortly after trading began, Citigroup was up 3.5%, JP Morgan rose 2.4% and Goldman Sachs climbed 1.7%.
Despite gains for the banks, the main US share indexes were all lower shortly after trading began.
The Dow Jones dropped 12.12 points to 21,442.39, the Nasdaq fell 27.55 points to 6,206.87 while the S&P 500 was 5.82 points lower at 2,434.87.
Shares in Walgreens Boots Alliance rose 2.9% after it scrapped its planned takeover of pharmacy chain Rite Aid Corp and said it would buy more than 2,000 Rite Aid stores instead for $5.2bn.
Shares in Rite Aid plunged 25% on the news.