Nike shares lead Dow Jones higher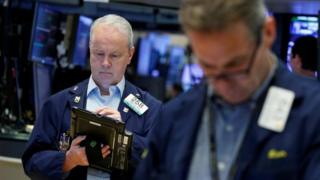 Shares in Nike jumped on Friday after it said it would start selling some goods though Amazon.
The sportswear giant confirmed on Thursday that it would begin a "small pilot" selling goods directly through the online retail giant.
Nike's shares rose 10.96% by the close of trade in New York to $59 as the company also reported better-than-expected fourth-quarter results.
Profits soared 19% in the quarter to $1bn and revenues rose 13% to $4.2bn.
Nike was the biggest riser on the Dow Jones, which was up 62.60 points, or 0.3%, at 21,349.63.
The tech-focused Nasdaq index dipped 3.93 points to 6,140.42 while the S&P 500 climbed 3.72 points to 2,423.42.
The Federal Reserve's preferred measure of inflation - the core personal consumption expenditures (PCE) price index, which excludes food and energy prices - rose at an annual rate of 1.4% in May.
That was down from April's rate of 1.5% and below the Fed's target of about 2%.
Other economic data released on Friday showed that consumer spending, a key driver of the US economy, edged up 0.1% last month, according to the Commerce Department.