US bank stocks fall despite profit rise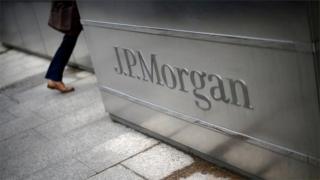 US banking giant JP Morgan Chase has reported a 13% rise in second quarter profits to $7bn (£5.4bn), lifted by strong growth of loans and deposits.
It was the steepest profit rise of the three big US banks that reported quarterly results on Friday.
Profits at Wells Fargo increased 5% to $5.8bn, but revenue was flat.
Citigroup reported a 3% fall in profits to $3.9bn as higher taxes and costs took their toll. The bank also made greater provision for bad loans.
The banks largely performed better than investors had expected, but shares fell on lagging revenue in key trading units.
Wells Fargo, which has been working to move past a scandal tied to fake accounts, fell 1.1%.
JP Morgan dropped 0.9% and Citigroup declined 0.5%.
'Healthy consumers'
JP Morgan reported total net revenues of $26.4bn for the second quarter of the year, a 4.7% increase from the same period a year earlier.
Revenues were helped by an 8% increase in interest income, which the bank said was driven by the impact of rising US interest rates as well as growth in the number of loans.
"The US consumer remains healthy," said JP Morgan chief executive, Jamie Dimon.
"Loans and deposits continue to grow strongly and card sales and merchant processing volumes were up double digits."
US banks had been expected to benefit from the recent increases in interest rates. The US Federal Reserve's target range for its key rate is now between 1% and 1.25%, whereas a year earlier it was between 0.25% and 0.5%.
Mr Dimon said the decline in revenue at its trading division reflected "lower volatility and client activity". A year earlier trading revenues had been boosted by the increased volatility generated by the UK's vote to leave the EU.
Citigroup reported $17.9bn in revenue, up 2% year-on year.
Chief executive Michael Corbat said the bank's retail division and investment banking business had strong quarters.
Wells Fargo saw a decline in car loans, after it implemented tighter lending standards.