Netflix and broader market on rise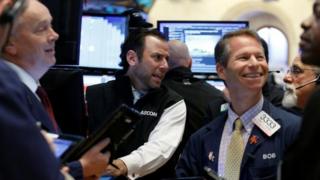 US stock markets were mixed throughout Monday, ahead of a week when many major US companies are scheduled to report their quarterly earnings to investors, but closed higher across the board.
The Dow Jones index ended the day up 0.36% or 76 points higher at 21,629.
The S&P 500 rose 11 points or 0.46% to 2459.14, while the Nasdaq was up 0.64% or 39 points higher at 6314.
Netflix released results after the market's close, showing a larger than expected rise in subscribers.
Netflix shares jumped 8% in after hours trading after it reported total subscriber numbers worldwide had reached 104m.
Financial stocks extended losses from last week after firms including Wells Fargo and JP Morgan Chase released quarterly results.
Shares in both banks were down more than half a percent.