Goldman Sachs and Bank of America weigh on Wall Street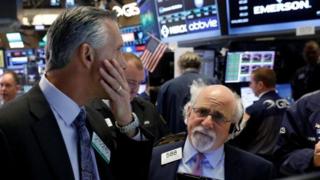 Wall Street was mixed on Tuesday, as subscriber growth at Netflix lifted the Nasdaq to another record but bank shares failed to impress.
Goldman Sachs fell 2.6% after weak performance in its commodities unit,a nd Bank of America shares fell 0.5% despite higher profits from rising US interest rates.
The Dow Jones closed down 0.3% at 21,574.73, while the wider S&P 500 index climbed 0.1% to 2,460.61.
The Nasdaq reached 6,344.31, up 0.5%.
Shares in TV streaming service Netflix jumped more than 13%.
The company added more subscribers than expected in the second quarter of the year and now has 104 million subscribers worldwide.
PayPal shares also climbed 2.4% after the online payments firm said it was working with Visa in Europe to offer Visa-branded debit cards. The two companies already work together in Asia.
Many sectors outside of tech experienced losses.
Motorcycle maker Harley-Davidson was one of the biggest fallers, down almost 6% after it cut its forecast for shipments this year.