US stocks hit new highs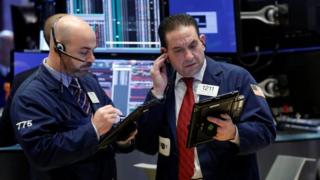 US stocks soared to new records on Wednesday, with gains across industries led by energy, tech and health stocks.
Vertex Pharmaceuticals was one of the biggest winners. Its share price jumped 20% after the firm released promising data about treatment for cystic fibrosis.
The Dow Jones climbed 0.3% to 21,640.75, while the wider S&P 500 index rose 0.5% to 2,473.83.
The tech-heavy Nasdaq was up 0.6% at 6,385.04.
Shares of the Scripps Networks Interactive, whose assets include the Travel Channel, climbed 15% after Reuters reported that it is in merger talks with Discovery Communications.
A report that US energy stocks were lower than expected boosted oil prices. Murphy Oil, Chevron and ExxonMobil all saw their stocks rise.
Better-than-expected corporate earnings also lifted markets.
Morgan Stanley's shares increased 3.3%, after it reported $1.8bn in profits in the second quarter.
But it wasn't all good news.
Shares in McCormick & Co fell 5.2% after it announced the purchase of a food business from Reckitt Benckiser for $4.2bn.
IBM shares were also lower a day after the company reported another quarter of revenue declines.