Dow Jones continues march towards 22,000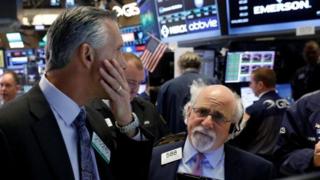 The Dow Jones headed further into record territory on Tuesday, closing in on the 22,000 level.
The Dow ended the day's trading up by 72.80 points or 0.33% at a record 21,963.92.
The S&P 500 index edged up by 6.04 points or 0.24% to 2,476.35, while the tech-focused Nasdaq index climbed 14.81 points or 0.23% to 6,362.94.
On the S&P 500, shares in Under Armour finished down by 8.59% after it cuts its sales forecast.
The sportswear maker said it now expected full-year revenue growth of 9%-11%, down from its previous prediction of 11%-12%.
Shares in Apple - which was due to report results after the close of trade - were up by 0.89%.
Shares in car manufacturers were hit by reports of a sharp fall in sales in July, driven by lower rental fleet sales and weaker consumer demand.
Shares in General Motors closed down, 3.39%, Ford's were 2.41% lower and Fiat Chrysler's were unchanged.